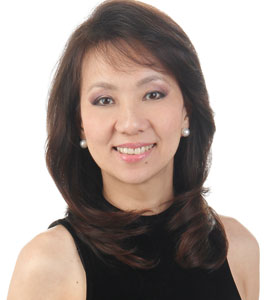 DR. NANCY GARCIA-TAN
A University Scholar & Cum Laude graduate of the University of the East, she obtained her medical degree in 1986 from the University of the East-Ramon Magsaysay Memorial Medical Center. She graduated with the Award of Distinction from the University of London- St. John's Institute of Dermatology and had subspecialty training for Dermatologic Lasers & Surgery from the National Skin Center, Singapore, University of Mahidol, Thailand and the Dermatology Associates of San Diego, CA, USA.
She received her M.B.A. degree from the Ateneo-Regis Executive MBA Program of the Ateneo Graduate School of Business & Regis University Colorado, USA in 2014.
She was Chairperson of the Phil. Board of Dermatology from 2002-2004, a Board Examiner of the Phil. Dermatological Society (PDS) for five years, serving as Board Secretary from 2000-2002 and as PDS board director (2002 – 2004).
She was the Chief, Section of Dermatology, Cardinal Santos Medical Center (CSMC) from 1997-2001, and was a member of the Training Officer's Committee, Dept. of Internal Medicine (2001-2009).
She is currently the Medical Director of MedDERM Asia, Laser and Surgicentre, a Consultant of the Sections of Dermatology of UERMMMC and CSMC, where she was re-appointed Chief of Section from 2009 up to the present. She is likewise Chair of the Quality Medical Division Sentinel Committee and President of the CSMC Medical Staff Organization.